2000°F / 1093°C Extreme High Temperature Woven Silica XT LadderTapeä:
Heat, Flame & Fire Resistant and Thermal Insulating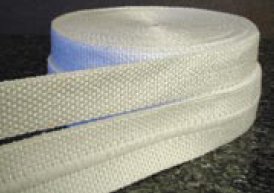 This high temperature LadderTape is heat, flame and fire resistant. Fabricated from high quality type silica yarns that will not burn and will withstand continuous exposure to temperatures of 2000°F / 1093°C.

These high temperature tapes provide protection of industrial wires, cables, hoses, tube and pipe and also provide thermal insulation and personnel protection. Also used as a gasket or seal. Available as a Plain tape or Drop-Warp tape (center longitudinal yarns missing), often called a bolt-hole tape or ladder tape.

This material resists most acids and alkalis and is unaffected by most bleaches and solvents. It is flexible and conformable.


High Temperature Silica XT Woven Tape
Top Photo: Plain tape
Bottom Photo: Drop warp (bolt-hole or ladder) tape

Part Number T-S-XT-W