High-Temperature PTFE
Coated Fiberglass Tape
This high temperature, heat resistant and thermal insulating PTFE coated tape offers the advantage of a non-asbestos material with a higher temperature range and with excellent resistance to almost all solvents, caustics and acids. This high temperature coated tape is used as a gasket and seal material and also as an insulation material for wire, cable, hose, tube and pipe carrying high or low temperature liquids or gases.

The base fiberglass fabric is rated to 1000°F / 537°C while the PTFE melting point is 620°F / 327°C.

Available in 1/16", 1/8" and 3/16" thickness and 0.5" to 6" widths.
The high temperature and chemical resistant tape is available in Plain and Drop Warp Styles. Drop Warp tape has several of the center lengthwise yarns missing during weaving, and allows the tape to be easily used for bolt-hole applications (sometimes called a ladder tape or bolt-hole style tape).

The PTFE is applied to the tape by dipping the tape through an immersion tank of liquid PTFE dispersion. The tape is then air dried as it leaves the dip tank. The result is a PTFE coating on the tape which is soft, robust and flexible; however, it can be abrasively removed from the tape with aggressive fingernail scraping, resulting in a thinner and thinner layer of PTFE remaining with each pass. The PTFE also causes the yarns to be sealed and the small gaps between the yarns filled, resulting in an almost air-tight / liquid-tight tape.
550°F / 287°C High Temperature & Heat Resistant LadderTapeä:
Heat Resistant & Thermal Insulating PTFE Coated Woven Fiberglass Tape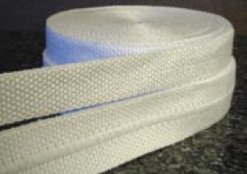 Part Number T-FG-PT-P

Part Number T-FG-PT-I


Technical Specifications
Fiber Type: E Glass
Specific Gravity: 2.54-2.69
Breaking Tenacity: 1.71 gf/TEX. Std. 1.71 gf/TEX Wet
Effect of Heat: Will not burn; Retains 75% tensile at 343°C; Softens at 732-877°C; Melts at 1121-1182°C
Tensile Strength: 450,000-500,000 psi.
Effect of Acids and Alkalis; Resistance to acids is fair. Good resistance to most alkalis.
Breaking Elongation: 4.81% Std. 4.81% Wet
Elastic Recovery: 100%
Effect of Bleaches and Solvents: Unaffected
Average Stiffness: 2824.3 cn/TEX
Benefits of our High-Temperature Fiberglass Heat Protection Products

Fiberglass offers excellent heat resistance, retaining more than half of its room temperature tensile strength at 675°F / 357°C, and more than 25% at 875°F / 468°C. It begins to soften at 1500°F / 815°C and melts near 2050°F / 1121°C. Non-combustible and excellent thermal conductivity to dissipate hot spots; high resistance to chemicals and unaffected by UV light.