2300°F / 1260°C CerMaxä Extreme High Temperature, Heat Resistant &
Thermal Insulating Woven Ceramic Fiber LadderTapeä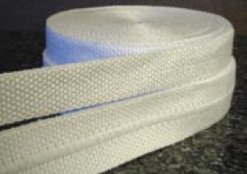 This high temperature, heat and flame resistant thermal insulating ceramic fiber tape will withstand temperatures of 2300°F / 1260°C continuous exposure.

This material resists most acids and alkalis and is unaffected by most bleaches and solvents. It is highly flexible and conformable.

This tape is available with fiberglass or wire reinforcement to give the tape dimensional stability.

Applications for this product include thermal insulation and/or protection of wires, cables, hoses, pipe and tube, as well as affording energy savings and personnel protection.

The tape is available in Plain and Drop Warp Styles. Drop Warp tape has several of the center lengthwise yarns missing during weaving, and allows the tape to be easily used for bolt-hole applications (sometimes called ladder tape).

Ceramic Fiber High-Temperature
LadderTape

Part Number T-C-W